😇 Angel interview #8: Lolita Taub
All the Angels is a newsletter about angel investing. By subscribing, you will receive an interview with an angel investor in your inbox every two weeks to learn about their motivations, their process, and their experience.
If you're reading this but haven't subscribed, join other angel investors, venture investors, and founders by subscribing here.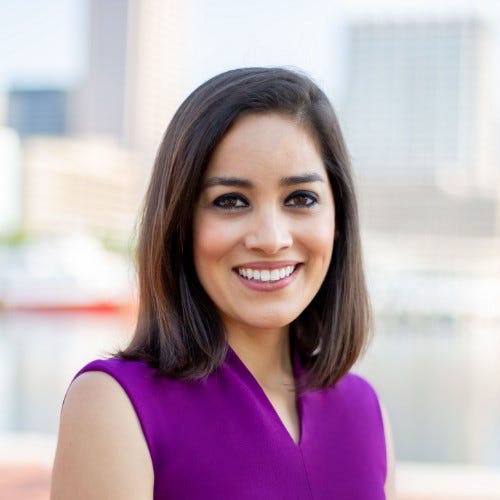 Lolita is co-founder and General Partner at The Community Fund, angel investor, and interim Head of Sales at Catalyte. She's a strong advocate for supporting underestimated founders, a first-generation Latinx operator and the Co-Founder of the Startup-Investor Matching Tool (backstory here), a scout at Indie.vc and Lightspeed Venture Partners, Venture Partner at NextGen Venture Partners, and an LP at Operators Collective.
Can you give a quick introduction of yourself? 
My name is Lolita Taub. I'm an operator and investor pushing for diversity in tech. I'm going on 15 years in tech, have made over $50M in sales, and have 13 angel and 26 VC investments under my belt.
What has your experience been like in angel investing? 
It's been great. I got my angel sea legs from volunteering for Tech Coast Angels and investing in startups through Portfolia's Enterprise Fund. Recently, I've brought on my husband to angel invest with me. This year we've invested in 4 companies: Leap, MilkRun, the Crafter's Box, and SUMA.
How many investments have you made so far and do you aim for a certain number of investments a year?
I've invested in 13 companies as an angel and do not set a specific number of angel investments per year.
How do you balance angel investing with your day job? 
Love, time-management skills, sweat, and Twitter.
What's your investment strategy? 
Investing in great tech founders who have clarity in their vision, a big multi-billion dollar market, an edge as a team/business, and with whom I can imagine being okay getting stuck in an elevator. My favorite startups are post-rev and community-centric.
What tools do you use for angel investing? 
The Startup-Investor Matching Tool, Hubspot, Calendly, and Gmail.
What's the one investment you're proudest of?
That's like asking a mother who's her favorite child. I like all my investments for different reasons. Each company is led by humans that are hustlers with heart and whom I believe will make themselves and me a lot of money.
What are some challenges with angel investing? 
High-risk, dilution in follow-on fundraises, being subject to the terms of a round's lead are some.
What's the number #1 piece of advice you want to share with aspiring angel investors? 
I recommend that you find opportunities to volunteer for angel groups to learn what it's about and see if it's for you. If it is, then read this thread. I share options on how you can invest if you are or are not an accredited investor.
Where can people follow you or reach out?
All: You can follow me on Twitter @lolitataub.
Founders: If you're community-driven, submit your company to The Community Fund here. If you're not, you can submit your companies for investment consideration here.
Aspiring investors: I share resources for you in my bi-weekly newsletter here.
---
Reading corner
📚
For this edition, I wanted to share advice on angel investing from a lot of the other brilliant voices out there who have been angel investing for longer than I have.
How to angel invest by Julia DeWahl
Julia is a well-known investor and someone who I admire a lot. She wrote this post laying out the definition of an angel investor, why you would angel invest, and the different phases (pitch meetings, evaluating companies, deciding to invest.) I would recommend starting with this article.
How to Angel Invest? by Shruti Gandhi
Shruti is an engineer and founding partner of Array Ventures. She shares a holistic view of what you should consider as an angel investor. I like the advice she shares because it's a more holistic and strategic approach to angel investing, especially if you think about it less as "I want to make an investment" and more as "I want to understand how to fit this into my life for the next 5-10 years".
Investing In Women Isn't A Fucking Charity by Jesse Draper
When this article came out, it resonated with the various female angel groups that I'm a part of. It's a really powerful article and I would suggest it to anyone who says that investing in female founders is a pipeline problem.
My favourite quote: "On a macro level, the lack of diversity in the industry is a problem because it means most of the money flows to types of founders VCs understand — businesses with white men of a certain socioeconomic background as their target customer. […] It's leaving opportunity on the table — $3T+ of opportunity, according to Morgan Stanley. Just because I invest in women-led and women-founded companies, that doesn't mean I'm running a non-profit. "
I asked 7 angel investors how they got started, how they evaluate companies, and what they wish they had known by Jess Li
Jess aggregates advice from different angel investors, sharing what motivated them to start angel investing and what advice they share with aspiring angel investors.
10 Essential Tips For New Angel Investors by Chris Smith
I like the first tip that Chris shares: "don't rush." When I started investing there were always these deadlines that stressed me out: the round is closing, the founder needs commitments, I met the founder a week ago and need to send an answer. If it doesn't feel right, then take your time. You might say "no" for this round, but there will be more opportunities later.
PitchBook Analyst Note: Angels: Foundational Investors to VC
Pitchbook shares some interesting statistics about angel investors, including that in 2019, more than $3 billion was invested in rounds that contained only angel investors. 🤔
Republic just announced their next generation of venture partners. Republic is a great way for aspiring angels to get started and was mentioned in the thread that Lolita shared. You don't have to be accredited to invest on their platform and the minimum investment is as little as $10. (Note: Lolita and I are a part of the Republic family.)
Previous interviews
😇 Angel interview #7: Saloni Bhojwani
😇 Angel interview #6: Sari Azout
😇 Angel interview #5: Andy Ayim