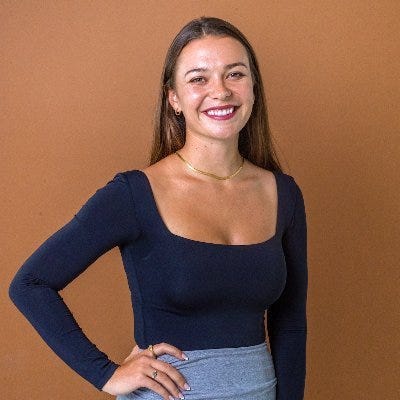 Dec 2, 2021 • 24M
😇 Angel interview #21: Paige Finn Doherty
All the Angels is a newsletter about angel investing. By subscribing, you will receive an interview with an angel investor in your inbox to learn about their motivations, their process, and their experience.
If you're reading this but haven't subscribed, join other angel investors, venture investors, and founders by subscribing here.
🤔 Personal note: I've taken a 6-month break from writing this newsletter and it's great to be back. I've missed writing and realized what a great habit it is to synthesize information and democratize what sometimes is only shared in closed circles.
Any angel investor or founder you want to hear from next? Just reply to this email.
Here's today's edition:
🔍 Interview with Paige Finn Doherty, founding partner at Behind Genius Ventures
Paige is a venture investor. According to Business Insider, she's one of the youngest venture investors to raise a fund. She started building her track record investing in companies as a syndicate lead. Her goal is not only to invest in product-led companies but also to help 1,000 people make their first angel check. She uses her platform on Twitter to share her learnings every day. 
Can you give a quick introduction of yourself?
I'm Paige Finn Doherty, I'm one of the founding partners at Behind Genius Ventures, an early-stage venture investing in the future of work and the future of play. 
I'm also an author. I wrote an illustrated children's book for adults called Seed to Harvest. My mission is to educate the next generation of venture investors. I'm based in San Diego and I'm an enthusiastic surfer. 
You're part of the next generation of venture investors. You take a different approach around startups, with the focus on the Gen Z community. How do you define your approach? What do you think is different about this new generation?
My approach to investing in Gen Z companies is to delineate that they're just companies, just like I'm a Gen Z investor but I very much identify as an investor. 
Gen Z has really absorbed that moniker, which is interesting. We're the first generation to go digitally native: 3/4 of my best friends are people that I've never met in person, I met through Twitter. I met my firm partner through Twitter. A lot of our investors have come through Twitter. 
Instead of having serendipity in the form of cities, our generation has a unique access point to building communities online. This democratizes access to resources in a way in which the outcome will be incredible to see over the next 5-10 years. 
In terms of the consumer, I have been loving companies that are using TikTok well. There's a company I invested in called Pallet. They're doing a great job. I love whoever owns the Twitter account for Wendy's. There's like this whole thing around irony and post-irony, capitalism and post-capitalism. 
Younger people are in this post-capitalism phase where they look at all the things that are integrated into their lives. Companies that don't take things too seriously and make fun of their role in it have this interesting effect of being successful in the capitalist world.
It feels like post-capitalism is the equivalent to meme culture because it's all about making fun of capitalism.
Meme culture is a strong part of it. The way that Gen Z humor works is so context dense. Memes, in essence, are one of the most context-rich forms of communication. You need to know the context and the content. Very often, you need to have ambient internet knowledge of 4 separate things to get the joke. In tech Twitter, they call them "low TAM tweets" ("TAM": Total Addressable Market.)
Memes, in essence, are one of the most context-rich forms of communication. You need to know the context and the content.
You mentioned that you met your partner on Twitter. How was the first time you met them? How did your relationship evolve?
Starting a fund was on my 10-year timeline. I wrote that down when I was 19. But Josh and I ended up getting introduced by someone who's now an LP in our fund (s/o Paul). I remember, the first time I met Josh, he seemed to be in tune with me. From the first second he hopped on, I was like, "I see you". It was clear that this person was put in my life for a specific reason. That was in November 2020, and we met in person for the first time in December. We did biweekly deal flow calls and started texting every day talking about the nuances of venture. In December, we got together and talked about what it would look like to build a firm together. We're not "fund" people, we're "firm" people. Building a firm is a much greater undertaking than building a fund.
We're not "fund" people, we're "firm" people. Building a firm is a much greater undertaking than building a fund.
What are the differences between a fund and a firm?
If you want to explore venture in a nuanced way, whether that's portfolio construction, sourcing, you build a fund. 
If you want to build a brand name in the venture community and continue to be an institution that raises multiple funds, you build a firm.
One of the interesting things about going into this industry is that the time horizons are so long. You can't really predict what your life is gonna look like in 5-10 years, but you have to be able to speak to that to the tee. If you'd asked me where I wanted to be 5 years ago, I would have said managing rappers and booking main stages at Coachella. I speak to the highest vision of my goal, with the context of the current moment.
Brand matters.
You see a division of VCs: some of them are more sales-oriented, and some are more marketing-oriented. People that would be classed as "loud on Twitter" are usually marketing-heavy people. There's a lot of folks who are flying under the radar. They would be more sales-oriented. 
Both options can work well, it's all about staying true to what works for you as an investor. 
I'm an educator at heart. I want to educate the next generation on venture investors, so I write about all the ins and outs of venture. I've been in a privileged position to have inbound LP interest and founder interest, but that was not my primary intent. I would say that puts me a bit more heavily in the marketing category. 
I wanted to circle up on your pinned tweet. I don't think enough people in venture think about democratization. Your goal is to help 1000 people make their first angel investment in the next 10 years. How far along are you?
My 10-year mission is to inspire, educate and empower people to invest. Even if you don't come from generational wealth, there's an opportunity to get involved in venture. That was how I found my path into building a community online and helping founders connect to investors. 
I want to make sure that more people have the ability to write checks, whether that's their own money or other people's money. The venture industry has such an outsized impact on the companies that are public today. The companies that are getting funding now across the board, a bunch of them will die off. But, a bunch of them will go on to be successful and baked into the ethos and stories of many entrepreneurs to come. 
It's important that we have a more diverse group of check writers, especially in the earliest stages, the "friends and family" round. I didn't have friends and family that could write a $100k check. A lot of people around the country don't have that. It's important that we continue to foster folks who can write small checks now, and their check size will grow larger in the future. 
I don't think that my failures and successes mean anything, if they're not making the lives of other people much easier. It's not an easy journey, that's why I write so much about what I'm doing.
Venture has been extremely opaque. You provide a lot of transparency in your journey.
There's transparency within a network behind closed doors, people will give you the keys to the castle. But if you're not in those networks, then they won't. I've found the internet to be an incredible tool in providing those keys to a broader range of people. 
You wrote something about how to start a syndicate and you've unveiled how straightforward it can be. How did you decide to make the transition from syndicate to starting a fund? What are the biggest differences?
The way I made the transition from running a syndicate to running a fund was Josh. That was the most crucial part. I had been keeping my eyes out for partners, I didn't want to found a firm alone. 
It got to the point where I was working at WorkOS and then I was working an additional 10-15 hours on the side, hustling to raise syndicates. I raised ~$300k in early-stage syndicates. I didn't want to raise for individual start-ups anymore. I wanted people to trust my decision-making skills for the next few years.
That's what was the transition point for me to start a firm. I would recommend that people run syndicates for a while before they raise a fund. A bunch of the fun part of sourcing deals and raising money is more flexible. 
My investing perspective has also shifted: cash flow has become a much larger consideration in a fund. In a syndicate, I send it out to 50 people, 17 of them say yes, and then get the wires in. 
In a fund, it's a bit more nuanced. For example - we have a capital call, and we're going to have $X amount of money, and we can invest that much. If it doesn't fit with what the entrepreneurs are looking for, it's much more difficult to make that investment. It's much more oriented around fund fit and timing than it was when I was a syndicate lead. 
That's what was the transition point for me to start a firm. I would recommend that people run syndicates for a while before they raise a fund.
It also sounds like raising capital for a fund is more effort than for a syndicate.
When you're pitching a syndicate, you're pitching something other than yourself so it's less personal. When you're pitching a firm, it's much more personal.
It feels like when someone says "no" they're saying I don't really trust your decision-making skills. You're selling access to your own deal flow, you're selling access to your judgment, you're selling access to people believing in your ability to support companies and win deals, which is a bit more intangible to communicate than metrics for a start-up.
What's the most recent investment that you've made?
I'm super excited about this start-up called FYPM. It's Glassdoor for creators. I previously worked at TVC Capital on the tools that serve brands and agencies in the creator economy. A lot of them cater more to the needs of people with deep pockets, rather than the actual influencers who are supporting the economy. What Isha and Lindsey are building is important because they're giving influencers the transparent data around ratings, payment, how fast the payment came in, what it was like to work with this brand, in an anonymous way that allows influencers to partner with brands in a way that better aligns with their values. 
Because the creator economy is nascent, people don't realize how valuable their online presence can be and the value of their brand. Even with 15k followers on a social platform means a significant amount of revenue with an engaged audience. 
Similar to the democratization of angel investing, you're starting to see something similar in influencer marketing.
In other industries, there are unions. There are no influencer unions. There are people who are at different levels of influence and they often share that information within their layer of influence, but not in other layers. It creates an asymmetry of information. This is why you see hype houses.
If you have a cross-influence relationship, you understand what the bigger players in your industry are doing, and charging for their work. This gives you a higher chance of moving up in the industry.
What's the #1 piece of advice you want to share with people who are considering starting a syndicate or starting a fund?
#1. Be authentic. You can't change who you are, and you should embrace your roots, your niche interests, your personality traits. When I started off in venture, I acted really really serious, because I thought people would respect me for that. As I got deeper, I learned people really respect others who are authentic. 
#2. Be generous with the time and resources that you've been able to gather. Help the person that is on the next rung. It's important to cultivate deep relationships with those around you and on the path up with you. 
#3 Be grateful. Every day is a gift. I don't think we take enough time to pause and appreciate that. We've just made up all of these constructs that we live in. Don't take yourself too seriously. It's much more play than work and the people I've talked to that are the happiest also consider what they're doing as play.